Our Brand Story
Celebrating ancient beauty rituals
Our Company Values
Forest Rhapsody Skincare was born out of a desire to create category-defining formulas.
We harvest next generation bioactives to pioneer modern interpretations of ancient beauty rituals across Southeast Asia, based on the belief that modern science and ancient wisdom can co-exist harmoniously.
We are on a mission to formulate intelligent and sophisticated skincare solutions that boldly celebrate green chemistry while paying tribute to age-old beauty rituals, creating products that perform and delight in equal measure. 

Come escape into our world of ancient beauty rituals. We are here to create a sanctuary for your skin and mind.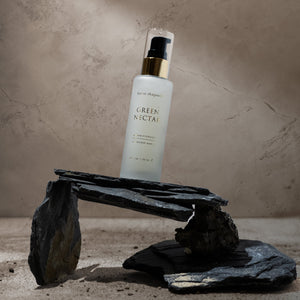 Our Formulation Philosophy
This is our brand promise to you.
Formulating is part science and part art and here at Forest Rhapsody, formulation is at the heart of everything we do. 
Leaning on an rigorous internal process, we select proven actives that are supported by clinical studies, before conducting multiple trials over months and years in our lab to create formulas that deliver exceptional results.
We balance the rigor of science-based research with the endless possibilities inspired by centuries-old botanicals used across Southeast Asia, recognising that there is an element of sensory joy that cannot be measured in a petri dish in a laboratory.
We are equally obsessed with creating efficacious formulas, as we are with formulating skin treats that delight your senses. From the celestial texture to the invigorating scent, every element is designed to elevate your skincare routine.
Our Founder Story
My daughter was born 6 weeks premature on Dec 31st, all 5.4 lbs.
Rainbow confetti rained down on New York Times Square on TV, as I cradled my newborn in the maternity ward. She was wrapped in a swaddle cloth with a celebratory "Happy New Year!" printed across the cotton fabric.
Hopsital Ward 628 saw the birth of my child and this, is also where the first seeds of Forest Rhapsody were planted. For the past 2 months, I called this 6x9 feet ward home. I was placed on complete bedrest under 27/4 supervision, while my gynaecologist ran daily tests to monitor my high-risk pregnancy.  
I was granted 5 minutes each day to stand upright. Feeling the soles of my feet on the cold laminated hospital floor was the highlight of my day.  
Robbed of my independence and confined to this fluorescent-lit room, my maternal instincts overrode all logical thinking. Every minor decision suddenly took on a different magnitude.  
From my diet to my skincare routine – everything had to prime my body to protect my child and increase her odds of survival. During this time of constant fear and uncertainty, my skin sensitivity was also heightened and it made me question every product I put on my skin and what that was potentially doing to my unborn child.  
It was in this pivotal moment that I decided to halt my daily skincare ritual – the one thing that thus far, has served as a sacred sanctuary for my skin and senses.
Post pregnancy, my skin simply lost its resilience. I oscillated wildly between aggressive actives prescribed by top dermatologists, and overly simplified home remedies that eliminated all gratification from my daily selfcare practice. 
I started researching for solutions and I intuitively turned to plants for solutions.
As the daughter of an ardent nature lover, I always had an affinity to nature. Treasure hunt meant foraging my father's precious garden to create rudimentary versions of potions and salves. And when we hurt ourselves, first aid kit was a corner in the garden, peppered with a myriad of herbs and medicinal plants, harvested whenever the need calls for it.  
It was in this environment that I learnt the symbiotic relationship between plants and humans; that the plants we cared for would ultimately serve us in return. So when the time came to create Forest Rhapsody, I knew I wanted to create a skincare range that celebrated plant-based bioactives.
Many of the active compounds we use in our formulas are derived from plants that I grew up using and understanding. They are close to my heart and I experienced first-hand how these botanicals are intricately weaved into our daily rituals to heal, sooth and restore. 
My father taught me that every plant has a story and a distinct purpose behind it - why and how it co-exists with other living organisms, and most intriguingly, how it benefits us.  
So now, I gather all my knowledge from past and present, to craft this highly efficacious, completely gentle and undeniably sensorial capsule collection for you.
"I was taught every plant has a distinct purpose - why and how it co-exists with other living organisms, and most intriguingly, how it benefits us.

So now, I gather all my knowledge from past and present, to craft this highly efficacious, completely gentle and undeniably sensorial capsule collection for you."
Our Broader Purpose
As a company that formulates with plant-based ingredients in our skincare treats, we hold the deepest respect for Mother Nature and the bountiful gifts we receive from her.
We understand the value of environmental biodiversity and the critical role bees play in maintaining this equilibrium.
We are honored to contribute a portion of our proceeds to Hives for Humanity, a nonprofit society that creates opportunities for connection to community, through nature, bees and the culture of the hive.